Healthcare
Care Homes, Hospitals and Healthcare Environments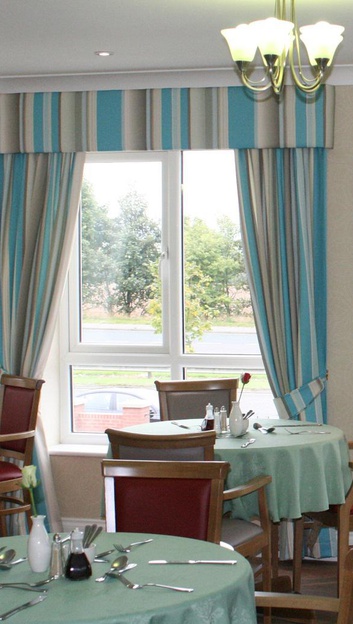 Skopos offer a range of specialist weaves and prints, perfect for Care home and Healthcare environments. Our designs provide warmth, relaxation and the familiarity associated with home.
Antimicrobial Fabrics for Hospitals and the NHS with
Skopos has been providing fabrics and finished curtains for hospital environments for over 4 decades and has a wealth of designs to choose from, perfect for environments where cleanliness is an issue.  Created and beautifully crafted by our in-house design team, all of our printed designs can be produced on a wide choice of basecloths, including antimicrobial upholstery qualities. Under our Skopos Protect Plus brand we can supply all of our printed drapery fabrics with an antimicrobial finish. The technology used on our printed fabrics blocks viral and bacterial enzymes and minimises odours. Designs with an uplifting nature, can promote a feeling of well-being and calm.  Alongside our prints we also have a choice of antimicrobial woven waterproof upholstery qualities and antimicrobial faux leathers/vinyls.  Skopos Protect Plus fabrics are antimicrobial and anti-fungal, effective against a broad spectrum of bacteria commonly found in hospital environments.
Our basecloth options include:
·        Lightweight, 145gsm for Bedding
·        220gsm weight Polyester FR for Bedding and Drape
·        Slub Polyester FR 220gsm for Bedding and Drape
·        Dimout quality for Drapery
All of the above are washable at 71 degrees, for thermal disinfection.
There are also many other fabrics for drapery, including blackouts and linen-look qualities and some upholstery options, perfect for healthcare, with waterproof and antimicrobial layers.  For the full list of basecloth options, please visit our basecloth page.
Hygienic Fabrics for Care Homes
Skopos has been providing fabrics and finished soft furnishings for care home environments since the 1970s.  Care Homes are becoming more like hotels and so the visual gap between the two has almost disappeared. Alongside our prints we also have a choice of woven waterproof upholstery qualities and the ability to produce bespoke designs.  All of our healthcare collections are perfect for Care Home environments, with many equally suited to hotels.  It all depends on the basecloth.  Please visit our basecloth page.
Our Healthcare collections
Skopos print collections offer a diverse and innovative range of flame retardant basecloths, showcasing great design on functional fabrics. Our upholstery fabrics include waterproofs, soil resist and anti-microbial fabrics, perfect for the high demands of healthcare environments. Skopos work with healthcare designers and care providers of all sizes, from independent homes to large groups.
Meeting the requirements for Healthcare and nursing environments
Choice of variety of basecloths to meet budget and durability requirements.
Fabrics and furnishings tested to strict FR regulations for contract interiors.
Full service offer available, with measure, make-up and fitting for a range of soft furnishings.
Specialist upholstery fabrics with antimicrobial, soil resist and waterproof properties.
For unique contract interiors
Bespoke by Skopos is an opportunity to be unique, where the possibilities are endless, just let creativity flow. Flame retardant fabrics with individuality.
Discover more
If you have a Healthcare project you would like to discuss, please contact our sales team